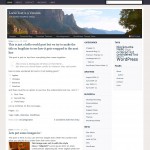 I have decided to release yet another beautiful WordPress Theme for free, for all of you guys.
I named it as "Desire" and it is a three column WordPress Theme, with all the features you can normally expect to see from me.
Features like, "Custom Image Header" are only available on themes that I create. Not many theme authors make use of this API given by WordPress.
Check it out at the theme page and download it!