This one is for WP 1.2
For the latest version of this theme, go to http://wpthemes.info/fleur-de-lys/
OK Friends,
Here comes the long-awaited (atleast by Patricia ;) ) version of Fleur-De-Lys.
We call it the 'Fleur-De-Lys GrapeWine'
For this package, I have also included the original and the blue versions. Once you uploaded to your server, you will see 3 folders inside the 'themes' folder.
'fleur' for the Original Version
'fleurb' for the Blue Version
'fleurg' for the GrapeWine Version
Now you can change the simple.php to point to any of the three folders and see how it looks on your website and then you can choose what you want.
This We call it Fleur-De-Lys V2.0 and it is an all-in-one package.
This is how the GrapeWine looks like,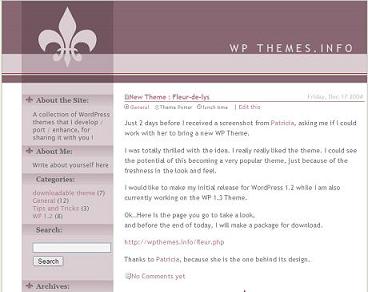 Enjoy !
Sadish & Patricia.