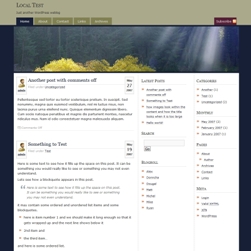 Thanks to Everyone who has participated in my contest to name my theme!. This contest pulled more entries than I really anticipated.
Just like me, most people saw some kind of
"Hope for the Future",
"A new Beginning",
"A Glorious Start" and
"Divinity" in that header image and that header image was the inspiration for many of names suggested by the participants.
I did feel the same thing when I first looked in that image, in one of the Free CSS Templates.
I was trying many different header images while developing this theme and I felt a completeness when I put this image into it.
After going through the list of names, Finally I decided to go with "Glorious Day" as a name for this theme.
It was not the one suggested by anyone, but the following entries were helpful in arriving at this name.
Blessed day – suggested by Raquel
Holy Light – suggested by Jochen Van de Velde
Majestic Glory- suggested by Dave J. (Scoop0901)
I would like to congratulate these 3 people as they are the winners of this contest.
They can choose any one of the Premium WordPress Themes at my Shop.
Winners please contact me off line with the name of the theme you want, I will send it to you by email.
The theme will be made available to the general public on September 1st 2007 at the Free Themes section of the shop.
Again Thanks to all the participants and I wish you all the best of luck, in the next contest, coming up soon.
Enjoy !