MistyLook is one among the most downloaded WordPress Themes of all time.
While I kept on working on this theme, for adding new features and for adding support for the latest WordPress releases, there are other people who put in their efforts too.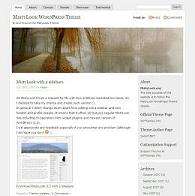 Many people contributed to the popularity of this theme. It includes people who have ported this theme for other blogging networks such as Blogger and TextPattern and people who ported the theme for other languages.
It has been quite difficult to keep track of all these things happening around this theme.
Thats why this MistyLook.Org is created.
This site is purely for keeping track of what is going on around the MistyLook theme. The official Theme page and the official Support Forum will remain the same.
Thanks.