This one is updated for WordPress 2.0

For the latest version of this theme, go to http://wpthemes.info/no-limits/
Here I am again, now with another theme !
The Other themes from this site are going very hot now, and daily I can see atleast 10 new blogs using either a GreenTrack or ShadedGrey.
Now I am coming with another cool theme….Its called 'NoLimits'…
A Variation of this theme is being used in WPThemes.Info and also in SimpleInside.com
Here is a screenshot of that.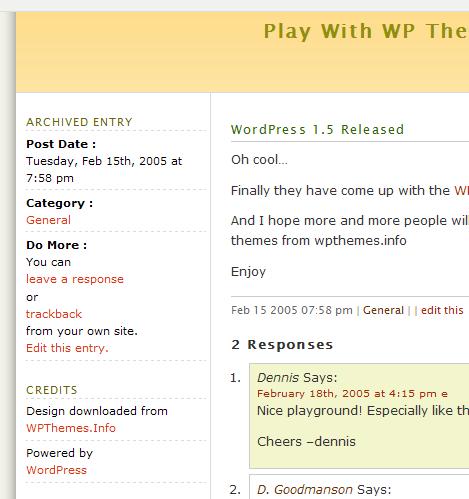 the live preview can be seen at playwith.wpthemes.info (latest version)
Feel free to reach me for any questions.
Thanks.
—
Update 1 : Feb 25 2005 10:00 AM
The Package had a different bodybg.gif, that goes as a background for #rap, It is Fixed now. Please download the latest package.
Update 2: Feb 27 2005 8:00 PM
Had to rename the file name for the top header image, to make sure it shows up in both IE and FF.
The Fix is available now. Download again if you have already downloaded.