Most Popular WordPress Theme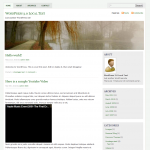 MistyLook is the most popular WordPress Theme that I ever created. This theme has been installed on hundreds of thousands of websites.
It has been holding up the top position on the most popular themes at wordpress.com. If you have a wordpress.com account, you can go to Appearance > Themes > and click on Popular and you would see MistyLook at the top.


New Features for the upcoming release
Wider than before
The previous version of MistyLook was developed mainly for people using 800×600 resolution. Now that most of the users have bigger monitors, I have made the theme to use more screen estate, now at 980px wide.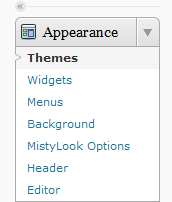 Support for changing the site's background with WordPress 3.0
WordPress 3.0 now provides an option to customize the site's background right within the Appearance tab.
MistyLook 3.8 beta supports this feature.
Support for custom menus in WordPress 3.0
Another cool thing that WordPress 3.0 supports is to have a custom user defined menu for the top navigation. The user can choose any of their pages / posts / categories or even external links for their menu.
I am still working on getting this integrated with the MistyLook Theme.


Question For you
There are so many occasions, people have requested me about how to hide the "search box" from the top menu, because it was overlapping one of the items in their top navigation.
I am trying to decide if I can remove it from the top menu all together. Please let me know your thought on that by clicking on the poll below.


Any other Feature requests?
Do you have any other features that you would like to be included in the next version. Please let us know in the comments section.
Download the beta version
Please use the link below to download the beta version of the MistyLook's next version.
[Download MistyLook 3.8 beta for WordPress 3.0]
Enjoy!