An Updated version of this theme, is now available at Shaded Grey Page.
This is also another most wanted theme, that I did for my personal blog at SimpleInside.Com .
Its called 'ShadedGrey'
Here is how it looks on the screen,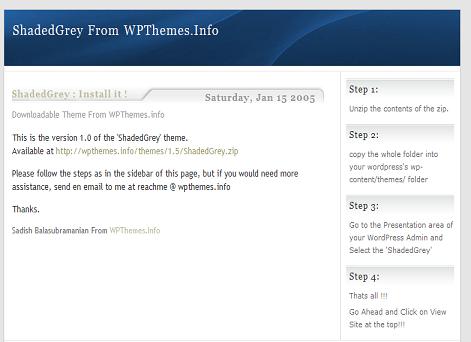 My customized version of this can be seen at playwith.wpthemes.info (latest version).
As usual, it contains a readme.html as part of the zip, along with all that the GreenTrack has had already.
Update 1: on Jan 16 2005 6.00 pm
The Problem reported by Shadow
is corrected now.
It was because of a call to a plugin that i use it on my website. The solution is to remove the call to that plugin. I fixed it in the code and uploaded the new package.
please download the package again to get the fix.
Update 2 : 18 Jan 2005 04:00 pm
Added overflow:hidden to the content to fix the problem with IE not rendering properly when u have images in the content.
The Same Fix is applied to GreenTrack also.
Enjoy !